WAS-565
Verkline Rear Lightweight Tubular Subframe for FWD cars – VAG A3 TT Golf Mk5 Mk6 Mk7 Sirocco Seat Leon
Regular price
£1,212.67 GBP
Sale price
£970.14 GBP
Unit price
per
Sale
Sold out
After long CAD development based on 3D scan of OEM subframe, tested with CAD FEA (Finite element method) and road going tests you can now buy brand subframe for rear o...
Perfect parts and fast delivery to the UK!
"Recently purchased some diff mounts for my S2, I was very impressed with the quality of the parts, and the fit was perfect. After seeing the quality of those diff mounts etc, I don't want to use anyone else. For this very reason, I will be placing another order for even more parts next week."
Product Description

After long CAD development based on 3D scan of OEM subframe, tested with CAD FEA (Finite element method) and road going tests you can now buy brand subframe for rear of your Audi/VW/SEAT/Skoda cars based on MQB platform Front Wheel Drive cars.

Using same T45 tubing as in WRC cars, our subframes provide increased stiffness and mass reduction. All factory parts bolt up to this unit, no other modifications are necessary.

Benefits:
– 11 kg. It is 2 kg saving over OEM steel subframe.
– Possibility of adjusting camber, toe and bump steer for improved suspension kinematics.
– Additional mounting for upper control arm – provides better camber gain and roll center
position (requires adjustable control arm to keep camber adjustment).
– One mounting subframe position, eliminates subframe shifting under the car. No need for subframe
locking kit / billet aluminium rear subframe inserts (weight savings).
– Increases chassis rigidity for improved handling performance.

Features:
– better access to car under body and enables wishbones change without subframe removal
– T45 (BS4T45 to BS4T100) tubing imported from UK and S355 metal sheets
– all components TIG welded
– delivered painted (powder coated) black or on special order (+50 euro) any RAL color
– can be used with OEM wishbones or our adjustable wishbones
– mounts to the OEM car body and no other modifications are needed to fit the subframe
– includes mounts for two OEM rear xenon lights sensors
– can be used with exhaust up to 4 inch. OEM positioning.
– no need for subframe inserts or our aluminium subframe bushings as the subframe comes with solid mounts to the car body

What is included:
– rear subframe powder coated in back.
– 3 mm metal adjustable wishbone position shims

Used in PQ35 and MQB platform cars (Type numbers in brackets):
Audi A3/3 (8P & 8V & 8VFL 2012+) FWD
Audi TT/TTS (8J & 8S 2006+) FWD
SEAT León Mk3 (5F) (2006-2013) FWD
VW Golf Mk5 Mk6 Mk7 (2003+) FWD

Notice : The subframe is made to fit the MQB FWD anti roll bar, which has a 696 mm distance between the mount centres. If you have an anti-roll bar with 710 mm mount hole centres (FWD PQ35 platform cars) you need to use one with 696mm hole centres from the MQB platform such as the Golf 7 or Audi A3 8V.

T45 is a very unique seamless carbon based steel tube that has been used in many applications in different industries. It is stronger than Co-Mo 4130 tubing that also used in motorsport. It is widely used in the aerospace sector in equipment such as pilot's seats and crew's seats due to the materials ability to withstand high G forces without snapping or splitting. This material is a Carbon Manganese based and conforms to the full Aerospace Specification laid down by British Standards.

Properties
Tensile: 700 – 900MPa,
0.2% Yield 620MPa minimum
Hardness Test: 201min – 262 max HB or 210min – 275max HV.

Replaces:
– 1K0 505 315 BH /BM /H
– 5Q0 505 315 G /H
– 5N0 505 315 B /AB /G

Notice: Sold for off road, track and racing applications only. Mounting the subframe may increase some noise, vibration, and harshness (NVH) in the car. We strongly advice to mount the subframe in qualified and experienced workshop.
Shipping Information

Same-day shipping for in-stock items when ordered before 2PM. UK delivery via DPD next day and European & Rest of World deliveries are carried out by DHL. 
Returns & Guarantee

2 years warranty on Verkline products. 14-day no quibble returns. See our warranty & returns pages for more information.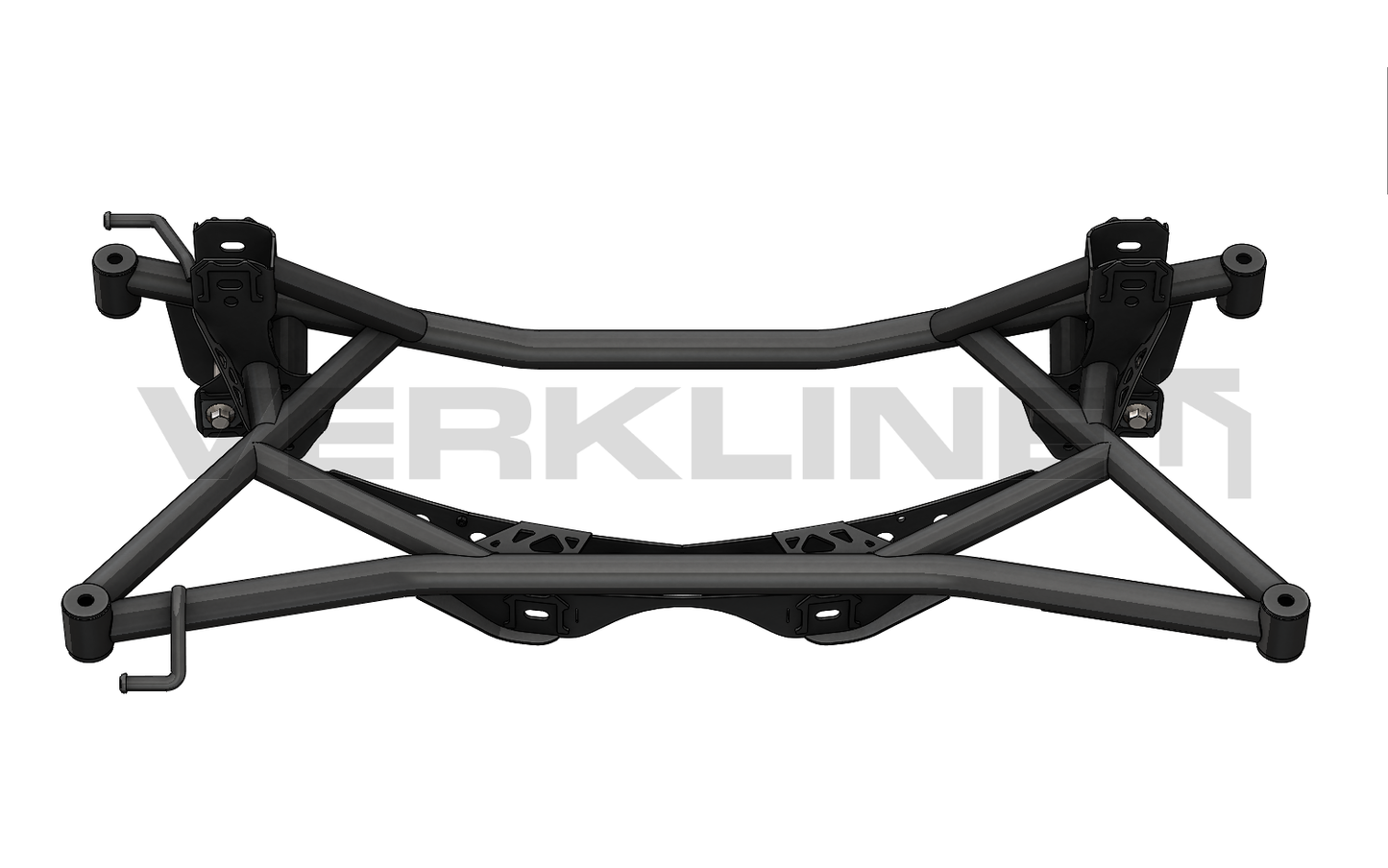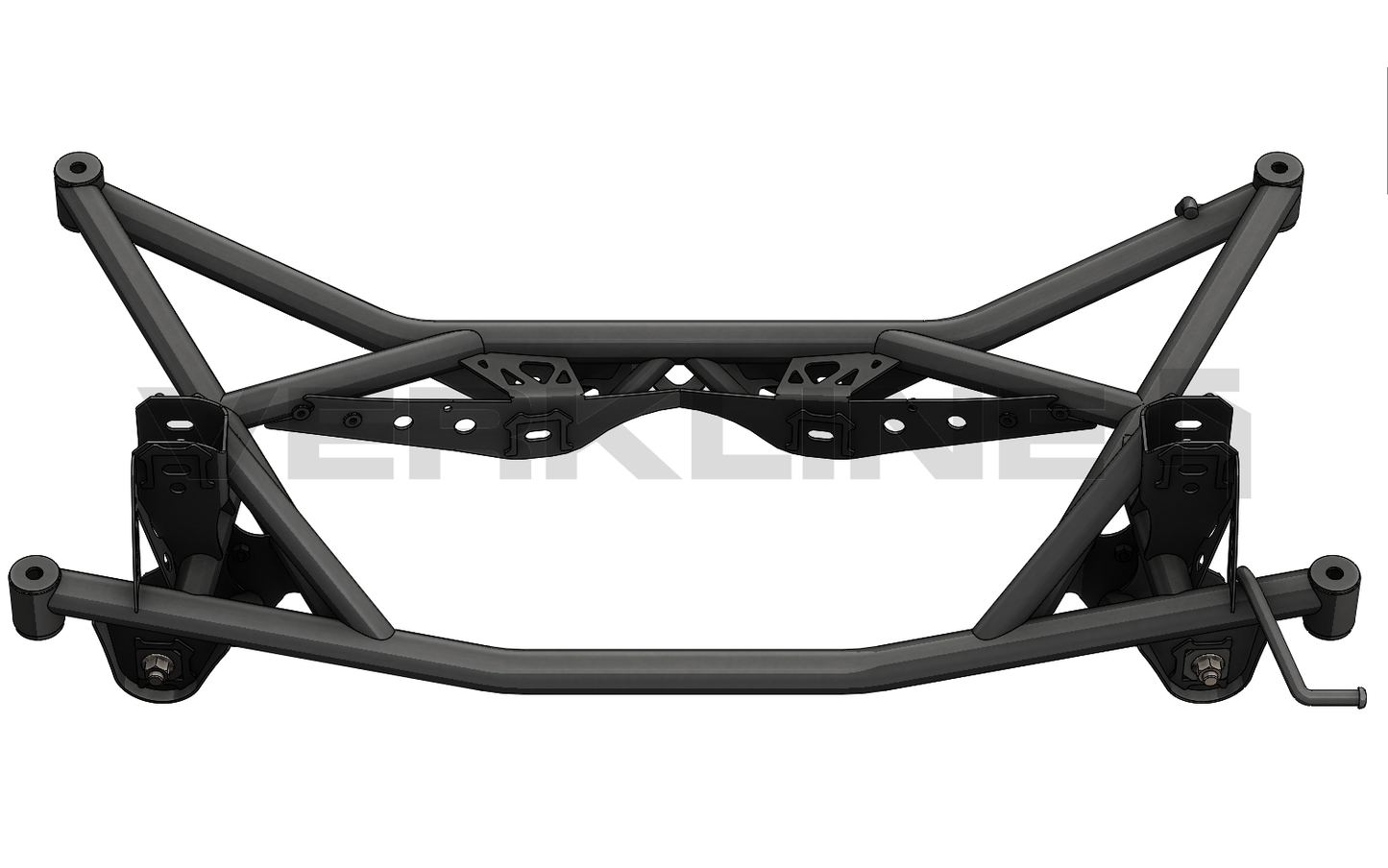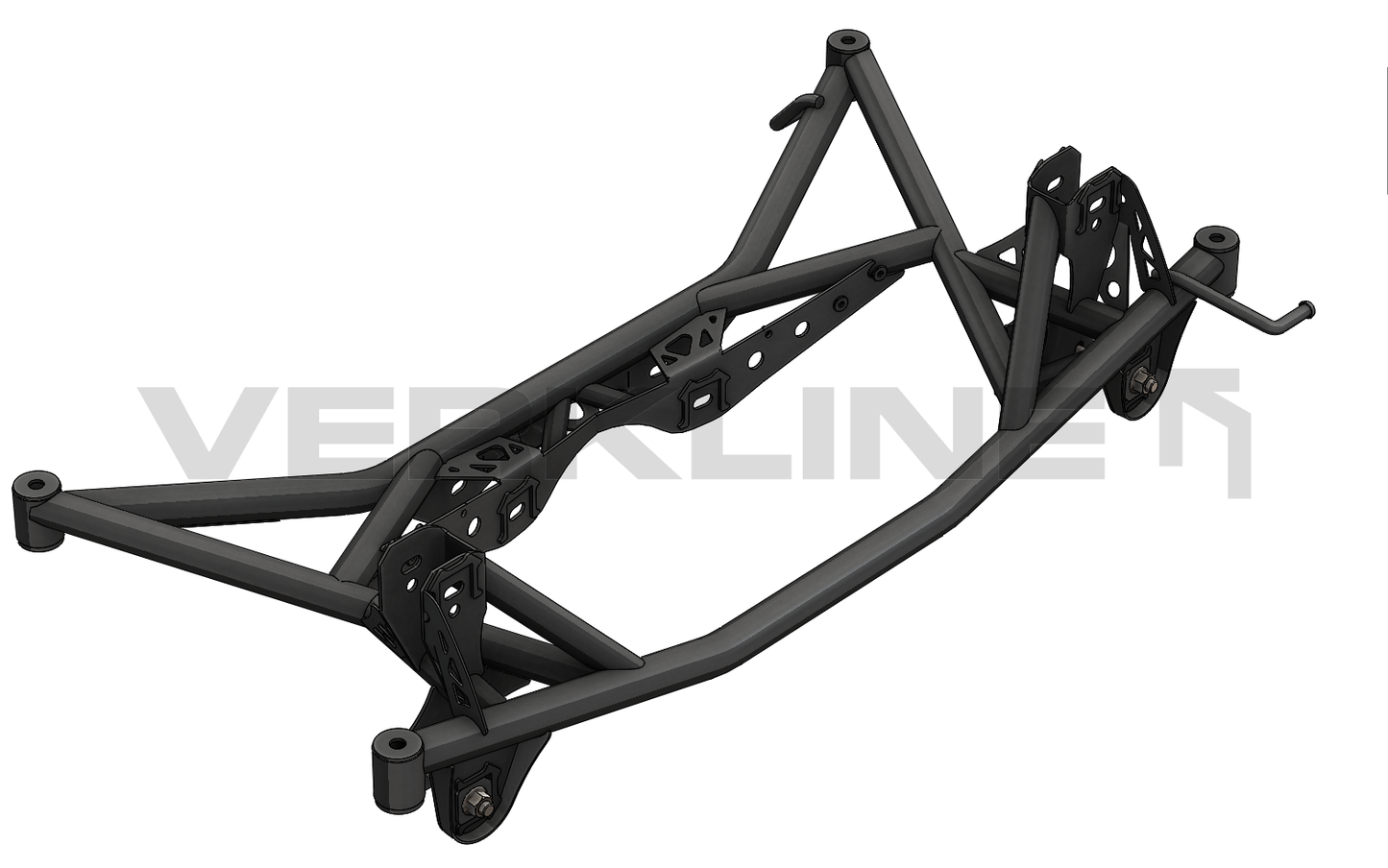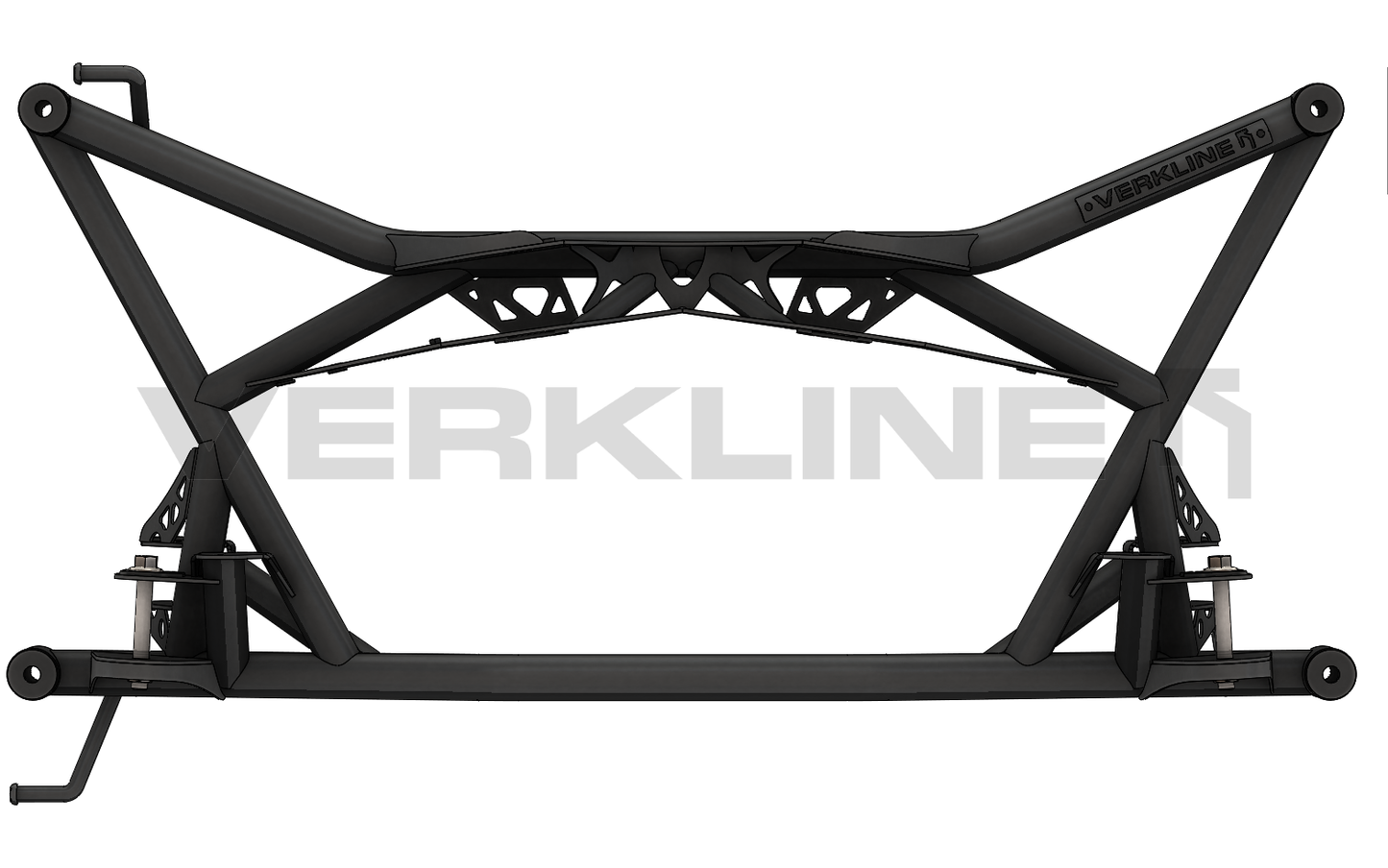 The products we received look great, can't wait to have them fitted
"Great work on the packaging, companies could learn a thing or two... even if it did take 30 mins to unpack"
frequently asked questions
Is this product in-stock?

We keep 100s of Verkline products in-stock at any one time. If you urgently require a product please message the team prior to ordering to confirm stock availability.
 Can I install this myself?

Installation instructions are provided for almost all products to aid with installation.
What're the benefits of adjusting the roll centre?

Without getting too deep into it, generally speaking, the higher the roll centre the less the vehicle will roll, the lower the roll centre the more the car will roll. Talking about road cars which are adapted to motorsport, on lowered cars without adjustable roll centres (pretty much all cars without motorsport suspension) they tend to roll more than standard. Raising the roll centre higher repositions the roll centre so that there is less roll.
What're the benefits of adjusting the camber?

Precisely setting the camber on your car is essential for optimising the tyres contact patch under load which evenly distributes the forces across the tyre. Too much, or too little camber can cause the load to be distributed more on the inner or outer edge which can lead to accelerated wear and poor performance.
What're the benefits of adjusting the toe?

Precisely setting the toe on your car is essential for optimising multiple aspects which contribute to performance such as corner entry handling, tyre wear (heat) and straight line stability.
What're the benefits of adjusting the castor?

Precisely setting the castor is very important as this can increase the amount of outside wheel negative camber gain and inside wheel positive camber gain when cornering, further improving the tyre contact patch, whilst running less 'static' camber for reduced tyre wear in a straight line.
What're the benefits of adjusting bump steer?

Bump-steer adjustment can reduce or increase the amount of toe change there is with suspension travel.
What're the benefits of adjusting camber gain?

Camber-gain adjustment can reduce or increase the amount of camber change there is with suspension travel.
 What're the benefits of eliminating deflection?

Factory rubber bushes allow for the suspension to move around in ways that allow the wheel alignment to change as they load up, making your car feel less precise and often more unstable. With the Verkline spherical bearings there is no movement which results in a direct and consistent feeling.
What is the warranty on these products?

Verkline products feature a 2 year limited warranty. The warranty information can be found here:
Verkline Rear Lightweight Tubular Subframe for FWD cars – VAG A3 TT Golf Mk5 Mk6 Mk7 Sirocco Seat Leon
verkline_uk
follow our story
Verkline | Handling Upgrades 🏁