WAS-001
Verkline Audi Sport Quattro Replica Wishbone Front Axis
Regular price
£749.70 GBP
Sale price
£674.73 GBP
Unit price
per
Sale
Sold out
Audi Sport Quattro S1 replica wishbones for front and rear axle. With high attention to detail, this is the best replica wishbones available.For quattro cars that need...
Perfect parts and fast delivery to the UK!
"Recently purchased some diff mounts for my S2, I was very impressed with the quality of the parts, and the fit was perfect. After seeing the quality of those diff mounts etc, I don't want to use anyone else. For this very reason, I will be placing another order for even more parts next week."
Product Description

Audi Sport Quattro S1 replica wishbones for front and rear axle. With high attention to detail, this is the best replica wishbones available.

For quattro cars that need unchanged geometry in every road, gravel and track conditions as stock wishbones pressed and steel tend to bend if used in harsh conditions. Wishbones enable wide camber wheel adjustment for track use. It gives up to 25 mm more camber adjustment.

Additionally Audi Sport replica wishbone moves the wheel to the front of the car giving more caster for better car handling. Aluminum pin is a perfect replica that contains all the elements of the original. They are suitable for rally stages and track use when standard wishbone gives up.

They provide greater strength that is required to withstand the much greater stresses and substantial geometry changes also become essential for effective use in your quattro. Tested on our race and rally cars.

What's Included:
– two wishbones for front axle (please state uprights type B2 or divided B3/B4 – see picture)
– two aluminum ball joint carriers milled on CNC machine and anodized in black
– two regreasable sport Fluro bearings (22 mm hole)
– two steel pins to connect with OEM struts (front – please state 17mm, 18mm or 19 mm pin)
– four steel galvanized locking plates for securing aluminum ball joint carriers
– all necessary screws for mounting ball joint carriers and steel pins

Features:
– Can be used in conjunction with the standard front sub-frame
– Made to work with OEM uprights
– Allows for massive camber adjustment (up to 25mm more versus OEM) and wider track
– Gives additional caster. Audi B2 OEM caster is 1,25 and with our wishbone it is 2.65
– Works fine with Audi Sport blade type anti roll bars
– Works with Audi Sport uprights (22 mm bolt)
– Prepared to work with additional trailing arm (front)
– Possible to use with "turn stop" on Audi Sport uprights
– On the contact area between aluminum ball joint carrier and inside of the wishbone the area is knurled for better grip of the carrier
– To be used with 37mm diameter bushes for mounting the wishbone to the subframe

Fitment:
– Audi RS2
– Audi B2 Coupe, Sedan
– Audi B3/B4, Coupe, Sedan, Avant

Bending machine ­used and milling machine for pipe treatment. Pipes are milled, metal plate is stamped, ends of the pipe are pressed and flattened for fastening of bushes, plug and bends are cut out on the laser, bushes are turned and grinded, rocker arm is welded in welding tool, dimensional tolerances: +­ 0,03 mm, concentricity tolerance 0,01 mm, tolerances are checked on separate measurement device.

Knurling is made on the press by inserting the mass of material – 80 metric tons. MIG ­welding is used to connect all the pipes together to replicate Audi Sport manufacturing process. The wishbone is made of reinforced steel and powder painted in black color.

Notice: Front wishbones increase significantly caster angle. 
Shipping Information

Same-day shipping for in-stock items when ordered before 2PM. UK delivery via DPD next day and European & Rest of World deliveries are carried out by DHL. 
Returns & Guarantee

2 years warranty on Verkline products. 14-day no quibble returns. See our warranty & returns pages for more information.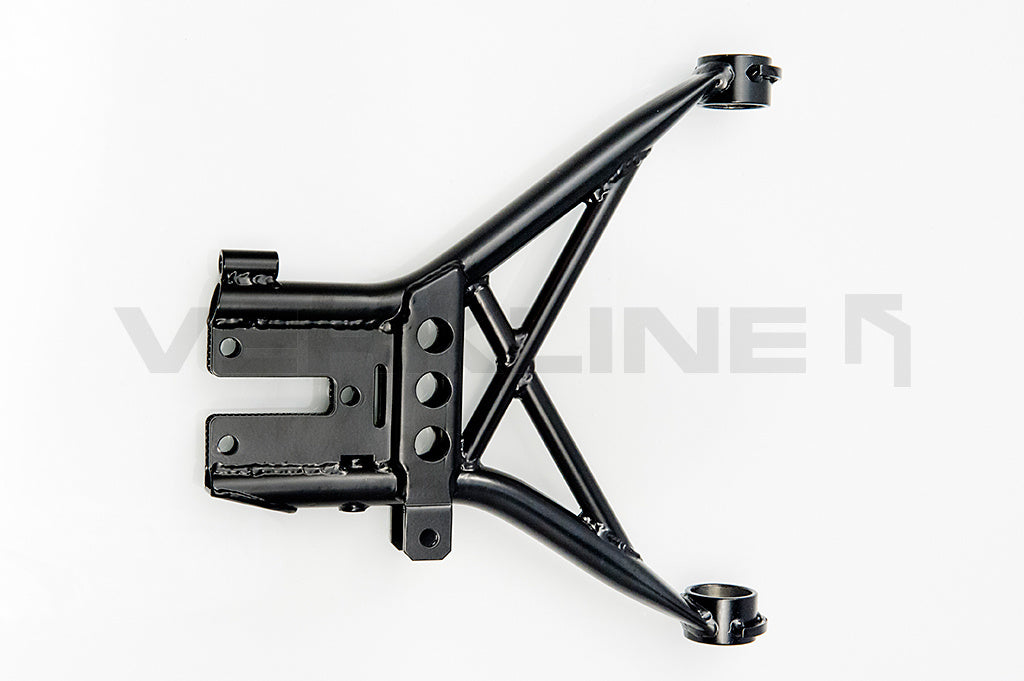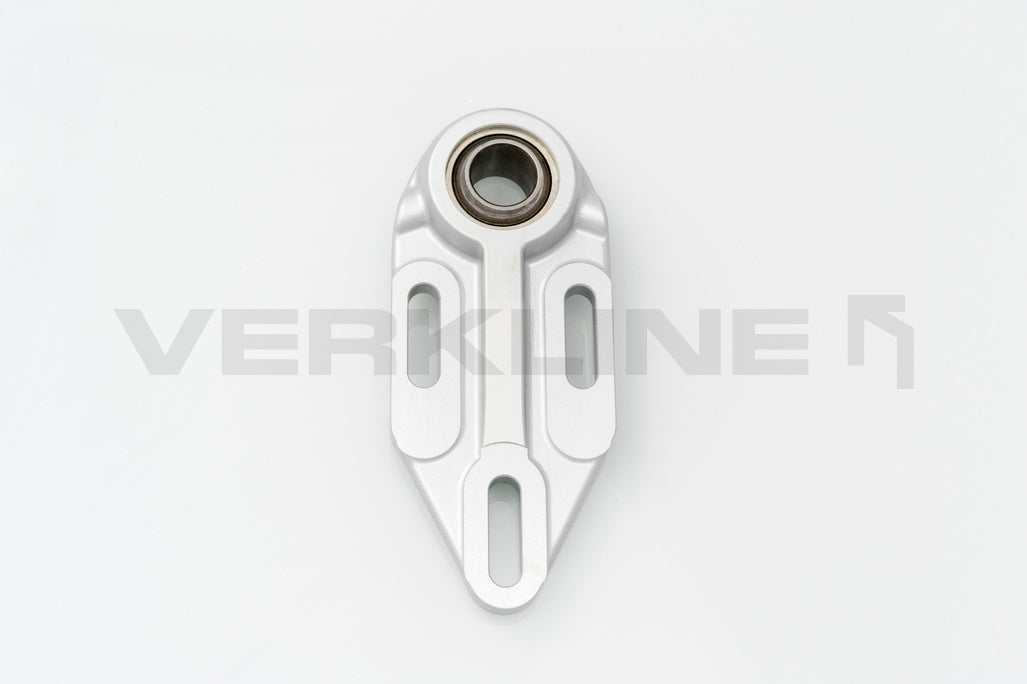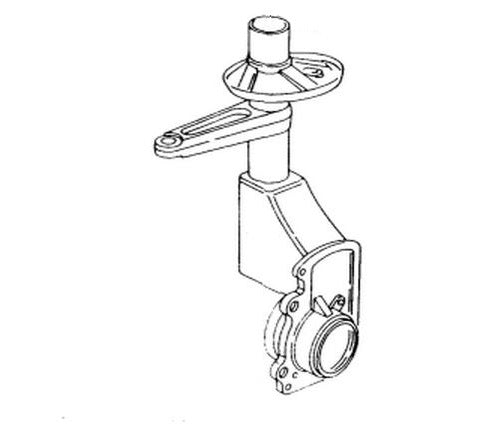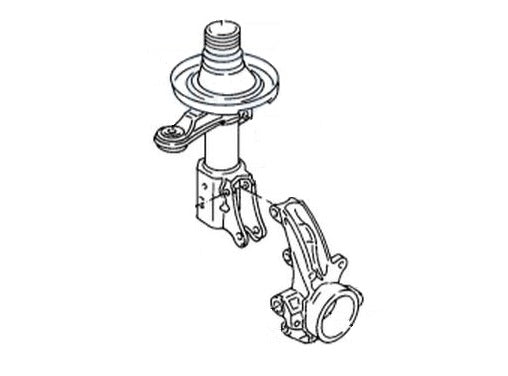 The products we received look great, can't wait to have them fitted
"Great work on the packaging, companies could learn a thing or two... even if it did take 30 mins to unpack"
frequently asked questions
Is this product in-stock?

We keep 100s of Verkline products in-stock at any one time. If you urgently require a product please message the team prior to ordering to confirm stock availability.
 Can I install this myself?

Installation instructions are provided for almost all products to aid with installation.
What're the benefits of adjusting the roll centre?

Without getting too deep into it, generally speaking, the higher the roll centre the less the vehicle will roll, the lower the roll centre the more the car will roll. Talking about road cars which are adapted to motorsport, on lowered cars without adjustable roll centres (pretty much all cars without motorsport suspension) they tend to roll more than standard. Raising the roll centre higher repositions the roll centre so that there is less roll.
What're the benefits of adjusting the camber?

Precisely setting the camber on your car is essential for optimising the tyres contact patch under load which evenly distributes the forces across the tyre. Too much, or too little camber can cause the load to be distributed more on the inner or outer edge which can lead to accelerated wear and poor performance.
What're the benefits of adjusting the toe?

Precisely setting the toe on your car is essential for optimising multiple aspects which contribute to performance such as corner entry handling, tyre wear (heat) and straight line stability.
What're the benefits of adjusting the castor?

Precisely setting the castor is very important as this can increase the amount of outside wheel negative camber gain and inside wheel positive camber gain when cornering, further improving the tyre contact patch, whilst running less 'static' camber for reduced tyre wear in a straight line.
What're the benefits of adjusting bump steer?

Bump-steer adjustment can reduce or increase the amount of toe change there is with suspension travel.
What're the benefits of adjusting camber gain?

Camber-gain adjustment can reduce or increase the amount of camber change there is with suspension travel.
 What're the benefits of eliminating deflection?

Factory rubber bushes allow for the suspension to move around in ways that allow the wheel alignment to change as they load up, making your car feel less precise and often more unstable. With the Verkline spherical bearings there is no movement which results in a direct and consistent feeling.
What is the warranty on these products?

Verkline products feature a 2 year limited warranty. The warranty information can be found here:
Verkline Audi Sport Quattro Replica Wishbone Front Axis
verkline_uk
follow our story
Verkline | Handling Upgrades 🏁