WAS-011
Verkline Adjustable tubular front race lowered wishbones Audi TT TTS TTRS 8J RS3 S3 A3 8P VW Golf Mk5 Mk6 Sirocco Seat Leon
Regular price
Sale price
£900.49 GBP
Unit price
per
Sale
Sold out
When using the car on the track the cornering forces are bending the rubber in the wishbones. Thus changing the desired geometry of the car. This can lead to slower tr...
Perfect parts and fast delivery to the UK!
"Recently purchased some diff mounts for my S2, I was very impressed with the quality of the parts, and the fit was perfect. After seeing the quality of those diff mounts etc, I don't want to use anyone else. For this very reason, I will be placing another order for even more parts next week."
Product Description

When using the car on the track the cornering forces are bending the rubber in the wishbones. Thus changing the desired geometry of the car. This can lead to slower track times and ineffective tire usage.

For that reason we have come up with uniball control arms. Our race wishbones use metal to metal uniball just like used in Porsche RS line (GT2RS, GT3RS). Tested intensively on our Track Audi TTRS.

Most of the cars used on track are lowered compared to stock. Lowering the car has the undesirable effect of moving the chassis lower than the balljoint and excessive lowering results in the situation where the wishbone is pointing upwards at the wheel end. This means you need more steering lock when cornering, the car is sluggish to respond and doesn't feel as communicative. 

We are using same T45 tubing as in WRC cars, our wishbones provide increased stiffness and extra adjustment. All factory parts bolt up to this unit, no other modifications are necessary.

This version can only be used with our front tubular subframes.

More pictures with additional information at the bottom.

Product functionalities:
– Adjustment both caster and camber (up to -4.5 degrees)
– no rubber to bend, you will not loose the geometry set when doing aliment
– corrected bump steer
– works ONLY with our tubular subframe (WAS-560). For standard subframe use this product.
– enables removal of the wishbones with out the need for removal of the subframe

Features:
– CNC machined 7075 aluminium insert and anodized in silver
– T45 (BS4T45 to BS4T100) tubing imported from UK and S355 metal sheets
– proven motorsport M18 uniballs (the same type we use in our Lancer EVO X kits)
– plug and play to use with the car inc xenon sensors

What is included:
– two (pair) front tubular wishbones (control arms) with all hardware for install
– two (pair) CNC billet 7075 aluminium wishbone arm mounts
– set of spacers to reposition the steering rack and front anit-roll bar. Both 20 mm up. See picture bellow.
– four rubber caps for uniball protection

Used in  cars (type numbers in brackets):

2007 – 2013 Audi TT/TTS/TTRS (8J)

2005 – 2013 Audi A3/S3/RS3 (8P)

2007 – 2009 Volkswagen Eos (MkV)

2010 – 2013 Volkswagen Eos (MkVI)

2006 – 2009 Volkswagen Jetta/GTI/GLI/R32 (MkV)

2010 – 2014 Volkswagen Golf/GTI/R (MkVI)

2006 – 2013 Volkswagen Passat

2008 – 2013 Volkwagen Tiguan

2010 – 2015 Volkswagen Jetta (MkVI)

2010 – 2017 Volkswagen Scirocco

2005 – 2011 Seat Leon 1P

Replaces:
– 8J0407151D + 8J0199231 / 8J0 407 151D + 8J0 199 231
– 1K0407151AK
– 1K0407151BF
– 1K0407152AK
– 1K0407152BF
– 1K0407151BD
– 1K0407151BC
– 1K0407152BD
– 1K0407152BC
– 1K0407152BC

T45 is a very unique seamless carbon based steel tube that has been used in many applications in different industries. It is stronger than Co-Mo 4130 tubing that also used in motorsport. It is widely used in the aerospace sector in equipment such as pilot's seats and crew's seats due to the materials ability to withstand high G forces without snapping or splitting. This material is a Carbon Manganese based and conforms to the full Aerospace Specification laid down by British Standards.

Properties
Tensile: 700 – 900MPa,
0.2% Yield 620MPa minimum
Hardness Test: 201min – 262 max HB or 210min – 275max HV.

Note: It is necessary to remove rubber o-ring (1K0423187) in order to fit steering rack in new higher position. Sold only for off road, race track and racing applications. If the buyer wants to use the parts elsewhere it is up to them to arrange appropriate documents.
Shipping Information

Same-day shipping for in-stock items when ordered before 2PM. UK delivery via DPD next day and European & Rest of World deliveries are carried out by DHL. 
Returns & Guarantee

2 years warranty on Verkline products. 14-day no quibble returns. See our warranty & returns pages for more information.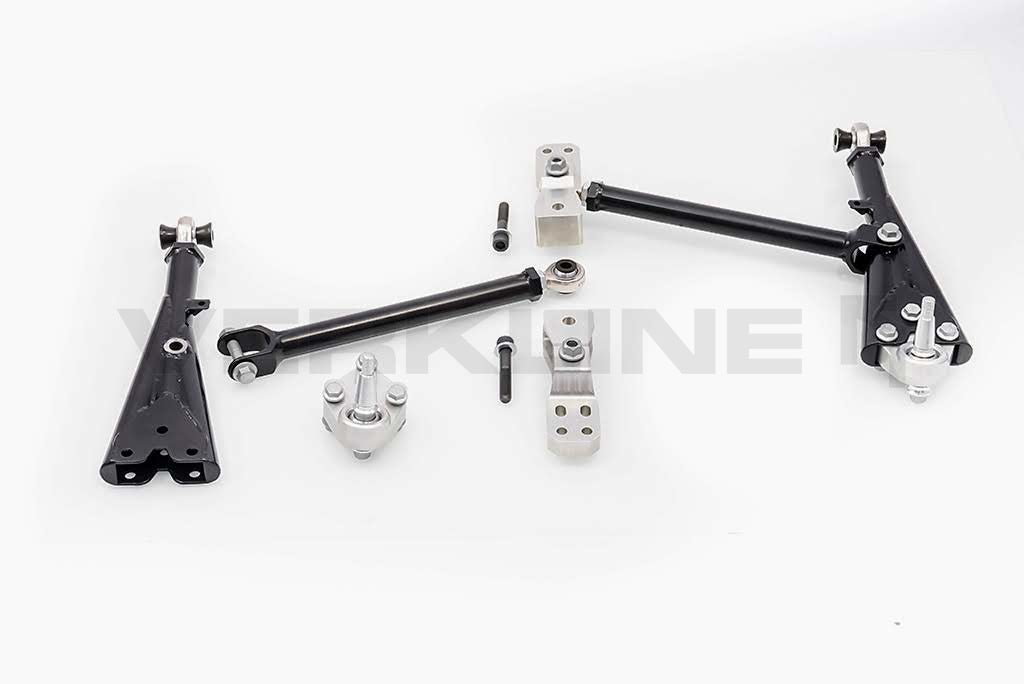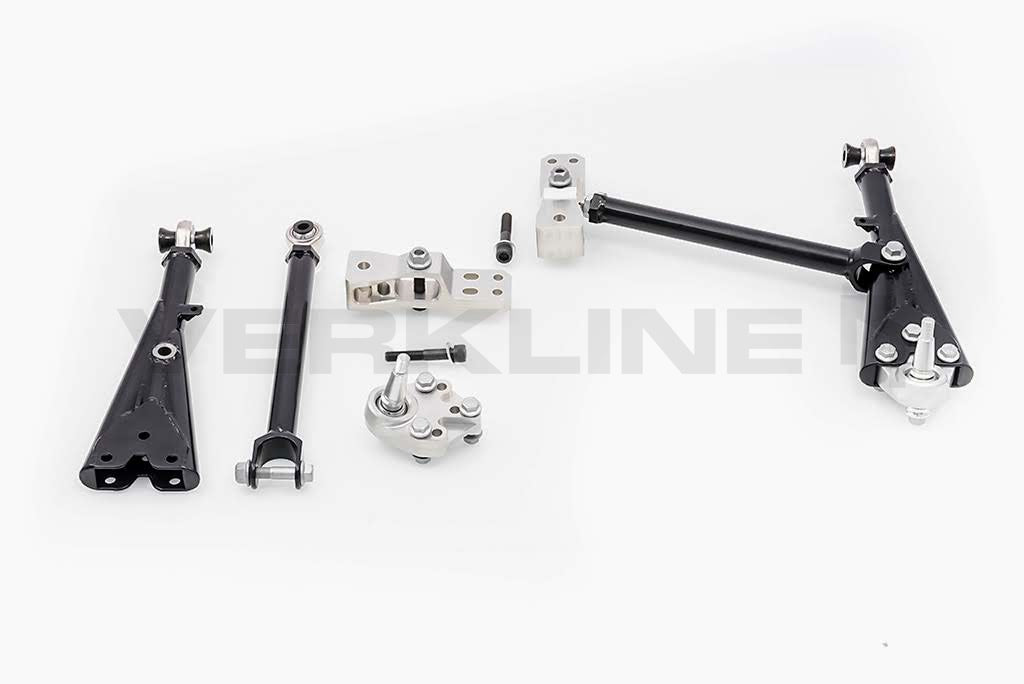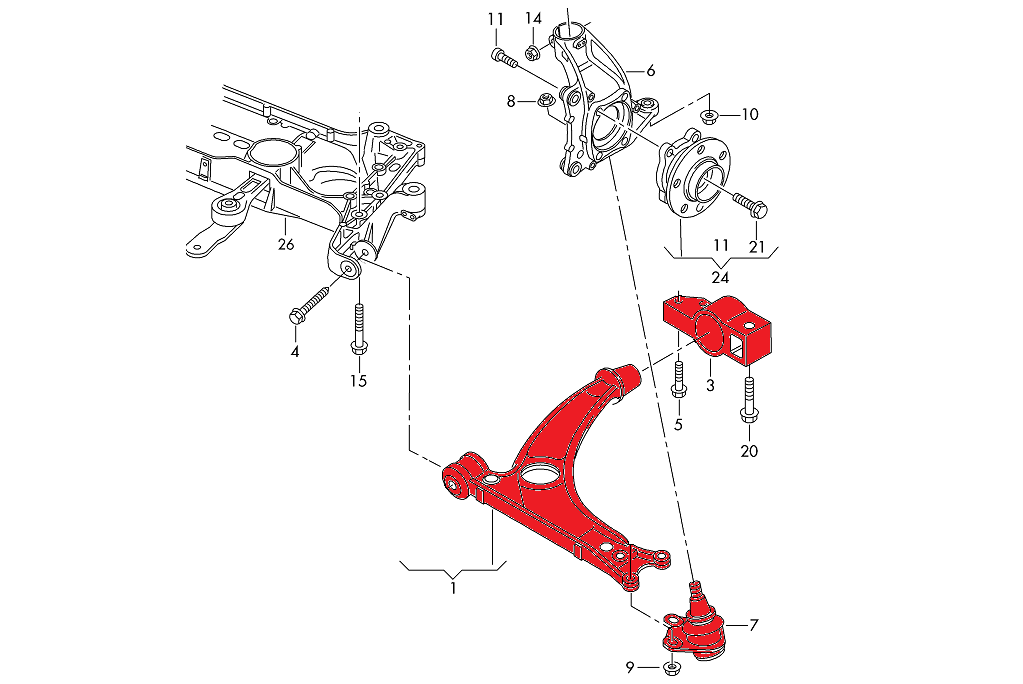 The products we received look great, can't wait to have them fitted
"Great work on the packaging, companies could learn a thing or two... even if it did take 30 mins to unpack"
frequently asked questions
Is this product in-stock?

We keep 100s of Verkline products in-stock at any one time. If you urgently require a product please message the team prior to ordering to confirm stock availability.
 Can I install this myself?

Installation instructions are provided for almost all products to aid with installation.
What're the benefits of adjusting the roll centre?

Without getting too deep into it, generally speaking, the higher the roll centre the less the vehicle will roll, the lower the roll centre the more the car will roll. Talking about road cars which are adapted to motorsport, on lowered cars without adjustable roll centres (pretty much all cars without motorsport suspension) they tend to roll more than standard. Raising the roll centre higher repositions the roll centre so that there is less roll.
What're the benefits of adjusting the camber?

Precisely setting the camber on your car is essential for optimising the tyres contact patch under load which evenly distributes the forces across the tyre. Too much, or too little camber can cause the load to be distributed more on the inner or outer edge which can lead to accelerated wear and poor performance.
What're the benefits of adjusting the toe?

Precisely setting the toe on your car is essential for optimising multiple aspects which contribute to performance such as corner entry handling, tyre wear (heat) and straight line stability.
What're the benefits of adjusting the castor?

Precisely setting the castor is very important as this can increase the amount of outside wheel negative camber gain and inside wheel positive camber gain when cornering, further improving the tyre contact patch, whilst running less 'static' camber for reduced tyre wear in a straight line.
What're the benefits of adjusting bump steer?

Bump-steer adjustment can reduce or increase the amount of toe change there is with suspension travel.
What're the benefits of adjusting camber gain?

Camber-gain adjustment can reduce or increase the amount of camber change there is with suspension travel.
 What're the benefits of eliminating deflection?

Factory rubber bushes allow for the suspension to move around in ways that allow the wheel alignment to change as they load up, making your car feel less precise and often more unstable. With the Verkline spherical bearings there is no movement which results in a direct and consistent feeling.
What is the warranty on these products?

Verkline products feature a 2 year limited warranty. The warranty information can be found here:
Verkline Adjustable tubular front race lowered wishbones Audi TT TTS TTRS 8J RS3 S3 A3 8P VW Golf Mk5 Mk6 Sirocco Seat Leon
verkline_uk
follow our story
Verkline | Handling Upgrades 🏁