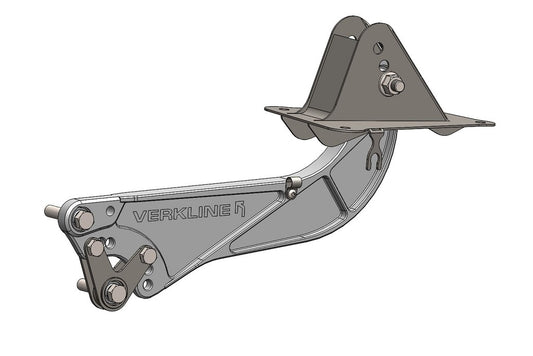 1 Min Read
NEW PRODUCT: Verkline Billet Rear Trailing Arms for MQB/MK7, MK6 & MK5 Golf Platform with Adjustable Anti-Squat Geometry
NEW for Q4 2020. Verkine is excited to announce the release of the Verkline Anti-Squat Billet Rear Trailing Arm with Spherical Bushings for VAG MK5, MK5 & MK7 Platform which includes fitments for GTI, Golf R, RS3, TTRS, Octavia and Leon. 
 Whilst we have had our spherically bushed OEM rear trailing arms available (click here) for a while now which eliminate the bush movement, we knew we could go one step further in improving the trailing arm design. 
The Problem:
The factory trailing arms on these cars are made from an extremely flexible piece of metal with a rubber bushing. Whilst this type of part is okay for a standard car with standard power output, standard tyres and standard handling upgrades for road use, when upgraded and used on track or drag use the weaknesses are revealed. 
The two main weaknesses are obvious. These being substantial deflection in the arm and bush making the geometry inconsistent, this results in an inconsistent and a non confidence inspiring driving experience when close or at the limit. The biggest weakness which is the less obvious for some is that on cars which are lowered, which is the case with almost every modified MK5, MK6 or MK7 platform Golf the squat geometry is not ideal. 
 What is Squat Geometry?
Squat geometry sounds complicated? Well, it's simple really. The squat geometry of a car is a percentage value which is somewhat representative of how much of the squat load is transferred through the spring/damper or via the control arms. A low % or negative value results in excessive suspension movement under acceleration as well as reducing responsiveness. The higher the % value results in less suspension movement as well as improving responsiveness. 
On a vehicle which is lowered, which is typical for the MK5, MK6 & MK7/MQB cars fitted with the factory trailing arms, the squat geometry is often at a negative % which results in excessive rear suspension movement as well as a sloppy and inconsistent response, all of which a common complaint of track driven MK5, MK6 & MK7/MQB owners as well as drag users wasting a lot of energy through suspension movement, rather than being transferred to the ground. 
 The Solution:
The Verkline Anti-Squat Billet Rear Trailing Arm with Spherical Bushings for VAG MK5, MK5 & MK7 Platform completely solves this problem by creating a new, billet trailing arm which is spherically bushed with multiple mounting points to allow you to customise the anti-squat geometry of the vehicle to your specific requirement. 
The more anti-squat you choose to run the less suspension movement you have, you'll enjoy improved responsiveness as well as the camber and toe change being less improving driveability.  The added benefit of more anti-squat is more anti-lift too. This comes into play when braking and keeps more grip at the rear of the car, allowing you to brake later or potentially run a brake setup with more torque at the rear, improving overall braking power.
Summary:
In summary, the Verkline Anti-Squat Billet Rear Trailing Arm with Spherical Bushings for VAG MK5, MK5 & MK7 Platform eliminates trailing arm bush deflection with the spherical bushes, eliminates deflection from the trailing arm itself, allows you to correct and increase the anti-squat geometry and as a consequence increases anti-lift. All in all, improving the performance of the vehicle dramatically. 
Eliminates bush deflection with Spherical Bushes

Eliminated arm deflection with Billet Design 

Corrects and adds adjustable anti-squat geometry 
Increases anti-lift geometry 
Reduces suspension movement 
Reduces toe change
Reduces camber change
Improves driveability 
Product Links: